Manomaya
Client
Manomaya
Category
Health
Project Description
Manomaya was established in the year 2017, with a vision of providing a sustainable treatment at an affordable price. the word organic and holistic were introduced too ahead of their time in India,
Dr. Devendra K. Sharma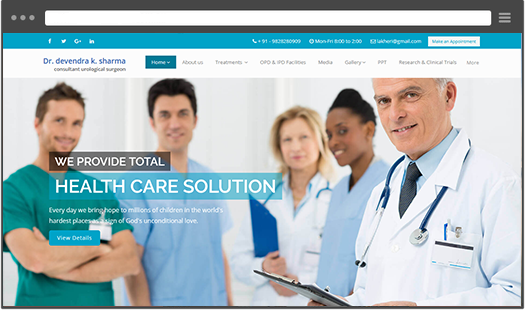 Client
Dr.Devendra K. Sharma
Category
Health
Project Description
Dr. Devendra K. Sharma Urologist Clinic was established in the year 2005. The clinic is located in Malviya Nagar, Jaipur, India. Dr. Devendra Kumar Sharma Urologist Clinic provides the best treatments available with reasonable cost to patients. Dr. Devendra Urologist Clinic in Jaipur has some expertise in giving that good health. Dr. Devendra K. Sharma Urologist Care is one of the leading urology clinics in Jaipur, with new technologies. Our Urology Clinic has a team of specialist doctors in Pediatric Urology, Robotic, Urooncology Bladder, Prostate, Kidney/Ureter, Sexual/Infertility,, and Genital to ensure optimum to quality treatment.
Jaipur Joints
Client
Jaipurjoints
Category
Health
Project Description
Quality healthcare services
Whatever ailment you have, you can be rest assured that
we will be able to address it directly and improve your health.
Qualified and trained doctor
Our doctor is highly skilled,thoroughly trained,
and incredibly versatile. You are rest assured that he
is up to whatever task is set before him.
Only use friendly environment
Our clinic environment is very friendly and we
will go a long way to making you feel better.
Our doctor and staff will accommodate
your every need.
Metallum Creations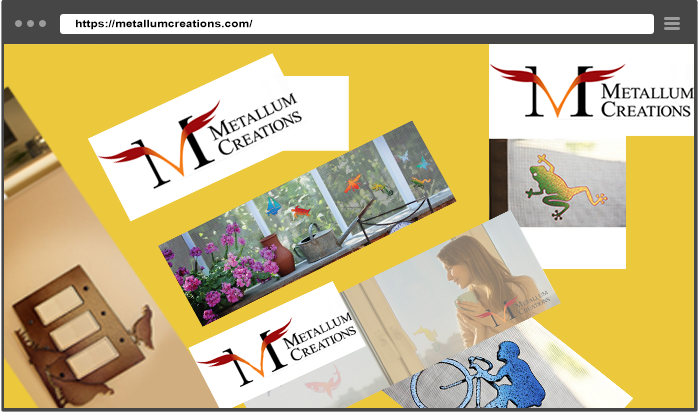 Client
Metallum Creations
Category
E-commerce
Project Description
Metallum Creations is a family owned and operated metal art business based in Southern Arizona. Our artwork styles range from southwest to abstract and contemporary. We offer a variety of many unique and distinctive designs that are cut from steel with a waterjet, bent to give dimensions, finished with a unique airbrush technique and clear coated with UV protective polyurethane. Our artwork is suitable for indoors or outdoors. All our work is hand crafted and made in the USA.
For one-of-a-kind, or special order/request inquiries please email info@metallumcreations.com
Nikita Designz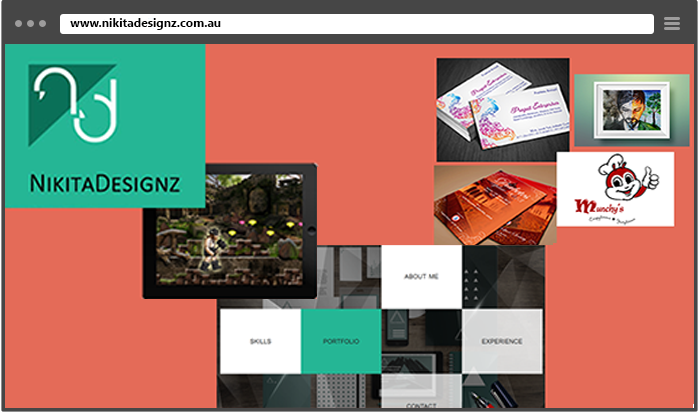 Client
Nikita Designz
Category
Business
Project Description
Hi,
I am Nikita, User Interface (U.I.) and Graphic Designer.
My career objective is to work in Print and Digital media industry where my Design skills can be utilized to the fullest advantage and to secure a position where my passion for design, ability to learn quickly, and desire to take up new challenges can be fulfilled.
Health Drop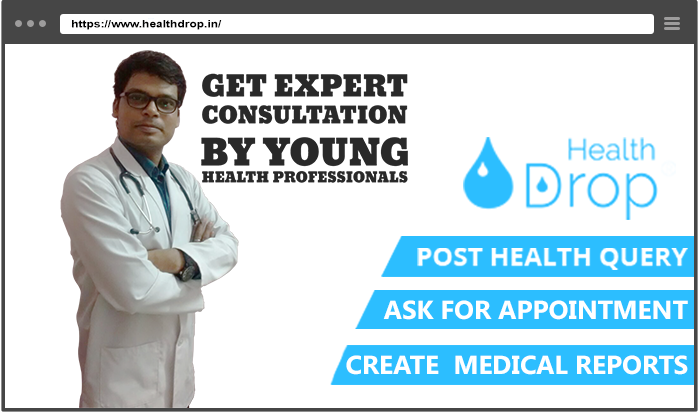 Client
Home product
Category
Health
Project Description
HealthDrop is a Doctor–Patient Platform , here patient get online consultation from doctor and health professionals at anytime.Patient can discuss with specialized doctors about their medical problems and get their valuable advice.A user can also ask about which city,hospital and doctor is best for any disease or treatment.patient also can personalize query by selecting private option that will allow to visible to specialized doctors. Patient also can set up medical history earlier to latest and all information will be keep secure .Patient can request to a doctor for appointment.
Highwayz
Client
Highwayz
Category
E-commerce
Project Description
Highwayz is a nonprofit collective based in San Francisco working to provide high quality cannabis & great prices to patients. The name Highwayz stands to represent all the counties & highways that have been driven through to obtain the best strains and prices for our patients. We aim to help our patients receive their meds in the most convenient and efficient way while also helping the community (SF) grow in culture and unison. Elders over 55, veterans, and cancer patients get discounts.
Gropity
Client
Gropity
Category
Business
Project Description
Go Gathering. Explore the options around you for any event or activity. Now plan your event with Gropity - an online event management company!
Sigma Digital Marketing
Client
Sigma Digital Marketing
Category
Business
Project Description
igma Digital is a full service Digital Marketing Agency that takes away all the technical jargon and creates a digital marketing strategy to fit your budget and goals. We don't cheat the system and use robots, our agency is full of actual humans that know how to engage with your customers.